This is one of the first Victorian outfits I made for Anthea. For a long time, I wanted to put her in late bustle era clothes, but I could not figure out how to made the centaur type skirts that would entail. After a while, I decided that softer early bustle outfits would be easier, so that's where I went.
Courtesy of
Festive Attyre's
fashion plates, I chose this
skirt pattern
, and used it for both the outer skirt and petticoat. The trouble was that I was taking apart a dress of min to put the petticoat together, and I didn't have much of it. The bum ruffles were in danger of being too short. I rectified this by adding eyelet ruffles to the bottom hems, which helped things stick out quite a bit. The bottom is decorated with two pintucks and more eyelet.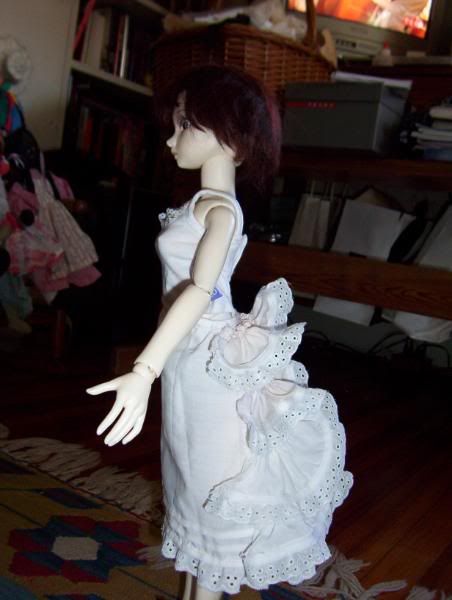 The skirt itself is not that remarkable, as its' a plain gored skirt with a really big pleated ruffle at the bottom. Still, it fluffs out nicely, doesn't it?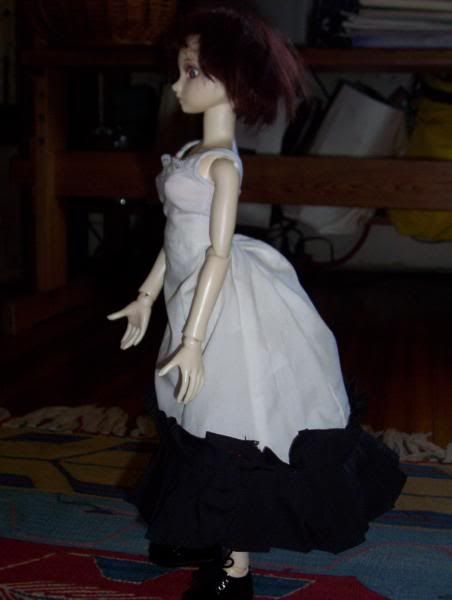 The top was inspired by this
pattern
. It wasn't until much later that I realized that I didn't follow the pattern as closely as I wanted (I stitched up seams that were meant to be loose,) but I like how it turned out. I used beads to mimic buttons and highlight the side pleats.