After spending a little too much time on
this lovely woman's website,
I got it into my head to make a mid Victorian outfit for Mariko.* According to my research, the shoulders should be dropped, the skirt full, the petticoat stiff, and the drawers should peek out from the bottom. aside from that, there were several bodice and sleeve designs to choose from. I chose a plain ungathered bodice with a jewel neckline and full bishop sleeves (and later worked myself into a near panic after the dress was done as I could not find evidence of bishop sleeves on children. Sigh.)
First, I made the underdress. I draped the bodice on Mariko, stitched it up (hemming shoulders is so annoying on this scale,) cut out the skirt, added the pintucks for stiffness, and sewed the drawers to the entire thing to reduce bulk at the waist.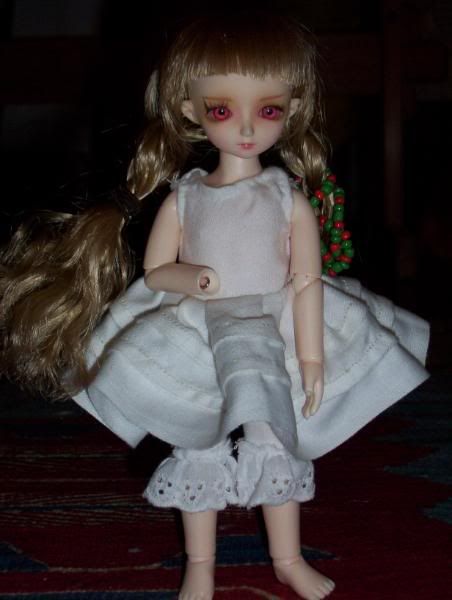 The bodice for the dress I took from the 1860's bodice from
Patterns of Fashion
volume 1, which was almost exactly Mariko's size. For decoration, I took inspiration from
the girl on the far right.
The trim was made with chain crochet stitched on top of some ribbon I had lying around. It later occurred to me that the cuffs might have been better off in plain white rather then echoing the trim, but I had no desire to take apart the entire thing for a little detail like that.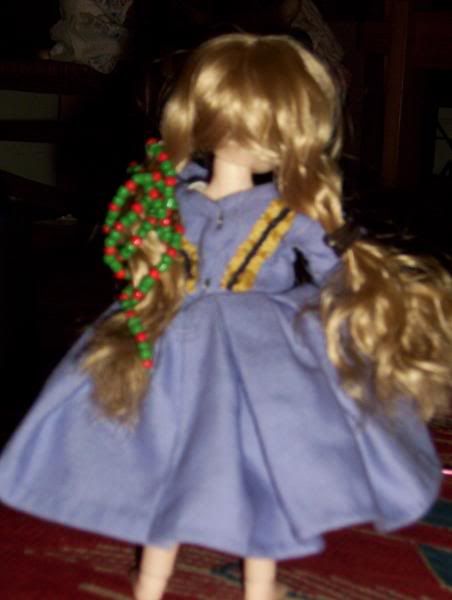 The only major hiccup is that her right hand could not fit through the armscythe. I had to take off her hand and add an S-hook so that it can be easily removed when she goes in and out of it.
What do you think?
*Actually, I made two dresses, but the second one is very plain, so I have few photos of it.